Robust, Versatile
Contains advanced programming and communication capabilities
Solicite una cotización
Preguntas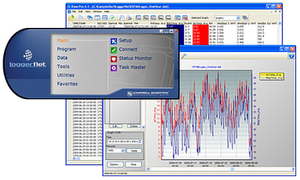 Galería de imágenes
Download the Trial
LoggerNet is our main datalogger support software package. It supports programming, communication, and data retrieval between dataloggers and a PC.
LoggerNet consists of a server application and several client applications integrated into a single product. It can support connection to a single datalogger, but is especially adept in applications that require telecommunications or scheduled data retrieval used in large datalogger networks.
Version 4 is our recent major upgrade to LoggerNet that features a new tool for designing and configuring PakBus® networks, a more powerful file viewer, an upgrade to RTMC, a redesigned toolbar, and many updates to existing clients. Learn more about the upgrade in the brochure and manual linked at right.
Beneficios y características

Creates custom datalogger programs using Edlog or CRBasic
Displays or graphs real-time or historic data
Builds custom display screens to view data or control flags/ports
Retrieves data using any of our telecommunication options
Processes data files using Split
Saves data in formats (including CSV and XML) that can be imported into third-party analysis packages
Dimensiones y pesos de envío
Single Box Shipping Weight:
1.0 lbs
454 g

Single Box Shipping Dimensions:
12" x 12" x 4"
30.5 x 30.5 x 10.2 cm